Fall Protection for tools is a way of ensuring that when a tool slips out of your hands it is protected. This protection most commonly comes in the form of a tool lanyard which has safety hooks at both ends and is stretchy to absorb the shock of a tool falling. Tool Lanyards can carry up to 15KG, sometimes more. This means that Fall Protection can be provided for all types of tools including Helmets and Electric drills.
3M™ DBI-SALA® Battery Holster/Sleeve
Unique sleeve design conforms to the size of virtually any drill battery.
Sleeve is cinched to the drill, allowing the drill to be tethered off while being used at height.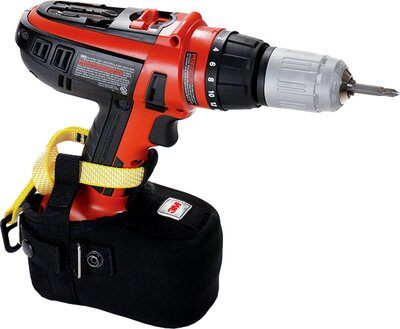 3M™ DBI-SALA® Adjustable Radiohttps://www.britanniasafety.com/product/3m-dbi-sala-adjustable-radio-cell-phone-holster-1500088/ Holster
Holster adjusts to fit virtually any hand-held radio, mobile phone, and many other devices.
Can be worn from belt or harness.
A Micro D-ring (see page 8) can be placed on the back of a device, and can then be tethered to a D-ring on the front of the Adjustable Radio Holster using a 1500066 Clip2Loop Coil